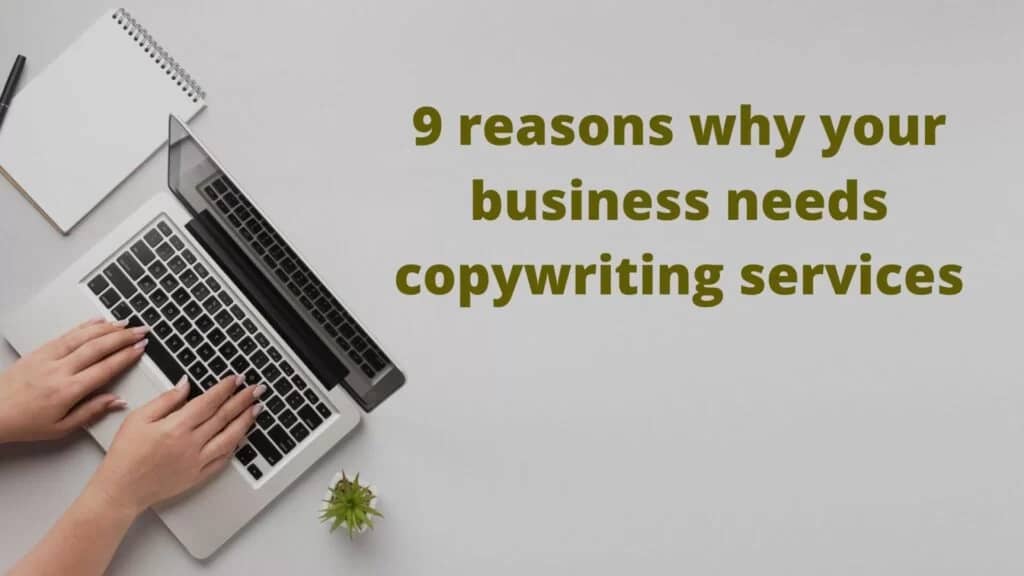 Copywriting services are crucial for the online success of your business. Be it on-site blogs, guest posts, or updating your website's landing page, consistent writing can help strengthen your position greatly. But instead of risking the loss of both time and money, you can hire a professional copywriter who can help you achieve this success with his knowledge and experience.
What is copywriting?
Copywriting is an amazing skill, an art that can promote your business or services by just writing texts. A copywriter is the one who designs content using his experience and knowledge to make the readers do whatever you want them to. For example, take a free trial or sign up for a short course. With content writing services you can not only promote your business but also increase your sales. Copywriting involves anything that is directly related to earning for example ads, texts on billboards, YouTube descriptions, etc. Excellent copywriting skills can compel a reader to buy your products or services. But do you know what a professional copywriter is and what he does? A copywriter knows the art of touching the emotions of your audience with the use of words. This compels them to buy whatever you are offering to them. Want an audience for a free trial, newsletter, or sale? A copywriter will use the power of his words to achieve this task. Statistics showed that 47% of buyers carry out research before contacting any company and 61% of the buyers purchase a thing after reading the recommendation section. Copywriting skill makes you not only a good writer but also a strong marketer and enables you to take precedence over your rivals.
Copywriting services in UK & US
Copywriters in the UK & US usually work with marketing, PR, and advertising. Copywriting services in the UK & US offer you the services including TV, print, or web advertising like emails, articles, brochures, press releases, product descriptions, etc.
Key Elements of Effective Copywriting and Copywriting Services
Gets you a step ahead of your competitors:
Customers get confused with so many choices available nowadays. If a buyer needs something, he will simply Google it. In today's competitive environment he will find hundreds of search results for his query and item to choose from. Appearing at the top of the result doesn't give you 100% confirmation that the buyer will purchase from you. He will compare your products and services with your competitors to find out the best suitable option for themselves. So, the solution is to stand out. Make a difference to attract buyers. You can do this by triggering their emotions or simply connecting your products with the buyer's needs. Give them something to come back for. Offer a service better than anyone else. In today's busy life, it can be extremely difficult for a business owner to do it by himself. So that's where an experienced copywriter can help you. By making use of copywriting services, you can tell your audience how you are better than your competitors in the most effective way. Professional copywriters make use of their understanding of human psychology and years of field experience. With their analyzing power, they can find out the gaps in the market that your competitors have ignored, so that you can fill these and compel the buyers to choose only you.
Save your time and resources:
Being a business owner, it might not be possible for you to consistently produce engaging content. Being unfamiliar with the copywriting skill, if you try to do it yourself you are risking both your time and money. Seek for copywriting services. An expert copywriter can help you here as he has years of experience in producing high-quality content that can appeal to the readers to buy your offer. So, it is always wise to entrust your content to someone expert in the field. When you are stuck in hectic to-do lost, this way you can have one thing less to worry about.
Greater web traffic & conversions:
Of course, no business owner would prefer paying for paid advertising over organic traffic. No doubt, advertising your business can complement your online presence and generate more organic traffic. Organic traffic means those people who are genuinely interested in your service and products with a greater chance of converting.
Communicate the right message:
A professional copywriter can get you not only an appealing copy but also capture the essence of your firm so that your message is delivered correctly to the readers. Moreover, not everyone is blessed with writing high-quality copy that generates sales. No matter the field you work in, communicating the essence of the business effectively is the key to success. Copywriting services are always helpful in making your business exciting and appealing to customers.
Role of copywriting services in persuading the audience:
Creating effective ways to engage audiences and encourage them to take action and signing up for or buying a service/product, is a part of copywriting service. Copywriting skill is the art of snatching the customers from the weighting arms of your competitors instead of weaving them off due to poor communication skills.
Company's Image:
The first thing that your future client may see is your web copy. The moment they see it, they are ready to decide whether you are credible or not.
Your web copy is representative of your professionalism, and worth in business.
The first impression is the last or at least very critical for any business. Your web copy is the chance to show the clients what you have got, be it your grammar or UX integration, and reflect the quality of your services and products.
Any misfortunate errors can damage your image as a brand. Generating more sales is the top objective of any businessman. Copywriter not only focuses on your products and services but also the client's interests. This will get you a copy that turns heads and converts.
Value of variety in copywriting:
Copywriting service includes the use of these different content strategies. Reader prefers variety so creating content in different formats, like video scripts, infographics, blogs, guest posts, or social media posts, can help convert a reader.
High Ranking on Google:
It is probably every businessman's greatest wish today to rank his website on Google's first page. You can only generate sales and convert readers if there is any traffic on your website in the first place. The higher the rank, the greater will be the organic traffic. This can be done through keyword incorporation in your web content.
Call for action:
It uses techniques and methods to persuade readers to take immediate action. Using human psychology a great copywriter triggers the logic and emotions of the readers and encourages them to act on your call.
Copywriting services have become inevitable today. It not only converts the readers but also strengthens your brand's outlook. Hiring a professional copywriter today can help your business move forward.
Types of copywriting Services:
SEO copywriting
Writing SEO content for your website means designing a content that is well optimized and will rank on the Google first page. SEO copywriting helps you to grow your organic traffic and improve Google SERP. Writing keyword-optimized content is an important skill for any firm to strengthen its online presence. The steps involved are as follows;
Find out the right keywords (primary and secondary)
Check out your competitor's SEO strategy
Accordingly, make improvements in your own content for an exceeding SEO copywriting.
Product copywriting
Product copywriting targets to give emphasis to your product. Featuring products needs powerful product copywriting for product descriptions, product pages, and feature notifications. This is done by keeping your customers and their priorities in mind. Create content copy that is appealing to their preferences. Shout out and let them know how your product is the best and only solution to their problems. So, here the key is to focus on the usefulness of your products instead of the features.
Website copywriting
This is a fundamental skill for any marketer. Website copywriting is needed for homepages, landing pages, etc. It is called the fundamental skill for the marketer because a reader may leave the website just after seeing an unorganized home page or landing page. This can make or break a deal and is the only chance to convert a reader. Website copywriting is where you define who you are and put your objective in front of the readers. All your website pages must be highly organized and easy to skim through. Communicate specific information through each specific webpage and divide them into sections. Make it easy for the viewers and assist them to reach the decision of placing an order.
B2B copywriting
B2B, as you might have already known, stands for business to business. B2B companies sell their products and services to other firms. B2B copywriting is written for businessmen. However, businesses are still run by people and again you are addressing a targeted audience who see your ads and review your links in profiles and campaigns. You have to be effective and convincing enough to encourage them to take action. To write engaging content you should talk about the pain points of their businesses.
B2C copywriting
B2C indicates business-to-consumer. B2C companies sell services or products directly to the customers who utilize them. For example, an online store from where you bought your favorite T-shirt or a lovely handbag. B2C copywriting has the goal of inciting the consumers to take an initiative and make a purchase. B2C copywriting is easier because individual people are quick to make decisions based on triggered emotions compared to corporations and businesses which take decisions based on serious calculations.
Direct response copywriting
This kind of writing that you will encounter as a marketer, prompts the reader to take a certain action right after having read the text. It includes the use of words 'today", "now, "within 24 hours", etc.
Ad copywriting
In this type of copywriting, you will have to write different kinds of advertising like video scripts, descriptions of social media posts, taglines, billboards, Facebook ads, podcast ads, etc.
If you need these services for your business than hashtechblog.com is the best choice for you. Hire a copywriter to get ahead of your competition.
FAQ
Why do businesses need copywriting?
Businesses need copywriting as it is essential for marketing purposes. Their content is designed to build brand awareness. A consistent brand voice is only possible with strong copywriting skills. Copywriters write their copy to engage readers and motivate them to buy your service or product. Using this inbound marketing strategy, they give your sales a boast. Copywriting is among the top most successful marketing strategies. With the right copywriting strategy, you stand out from your competition.
Types of copywriting services?
Some major types of copywriting services are as follows. If you want to stand out no matter what, then you must comprehend the major types of copywriting especially if you are dealing with a start-up company as you might be handling a lot of projects. These are; 
Ad copywriting
Direct response copywriting
B2C copywriting
B2B copywriting
Product copywriting
SEO copywriting
How much does a copywriter charge in the UK?
Depending upon the proficiency level of a copywriter he charges from $60-$500+ per page for SEO blog posts.