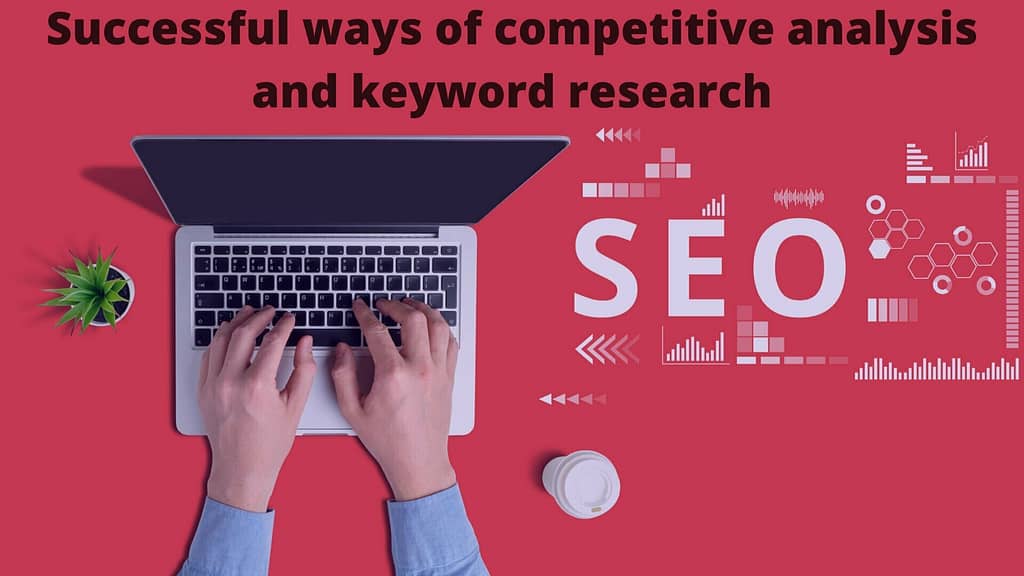 What is competition keyword research and how does it work?
A competitive keyword analysis is a tool that allows you to see what your competitors are up to. The keywords of rivals are investigated to gain an extensive understanding of the keywords through which competitors have achieved success and how you might defeat them by exploiting their faults. If you have successfully completed your competitive keyword research, you will be able to build an effective plan that will propel your website to success while also allowing you to perform work that is distinct from your rivals.
A competitive keyword analysis is a method of determining how much traffic is being sent to your rivals' web pages. It is possible for you to build a more successful approach and attempt to cover up the mistakes made by your competitors. As a result, competitive keyword analysis can help you get an advantage over your competition. This is done in order for you to rank higher than your opponent and attract more visitors to your website. When you have finished your competitive keyword research, you should be able to provide answers to the most important questions. Specifically, these are the questions:
Who are my rivals, and how are they better than me when compared to me on the internet?
Is there anything relevant I'm overlooking, or are my rivals overlooking any crucial keywords?
Which keyword competition analysis tools and procedures will be required to implement my market strategy?
How do competitors attract visitors to their websites, and how can I Improve my ranking on search engine results pages (SEO)?
How to analyze competitor keywords.
It is not critical that the technique employed by your opponent is similarly successful for you in your endeavors. However, you will get a head start on your task because of this. Competitive keyword research ensures that you are aware of your current search engine ranking and how you may improve your ranking by keeping an eye on your rivals' websites. In this Article you will find out Successful ways Of Competitive Analysis And Keyword Research.
Why is it important to do competitive research for your keywords?
When asked what the importance of competitive keyword analysis in SEO is? The answer is straightforward: it helps you win more business. Why can't you rely on your abilities by selecting keywords that are relevant to the interests of your targeted audience?
It's a bit like shooting in the dark right now. It might be a resounding success or a resounding failure. Yes, that is possible—to a certain extent. Effective keyword research requires an in-depth assessment of your brand identity, your target market, and your chosen sector, all of which are crucial components of the process. If you are looking to expand your internet presence, analyzing competitors' keywords may prove to be a very beneficial resource. The ability to comprehend the competitive landscape for your keywords will allow you to evaluate how difficult it will be for you to rank for specific phrases and where you should focus your efforts and resources in order to obtain the best potential outcomes.
However, the most significant advantage of competitive keyword analysis is that it will provide you with information about the weaknesses of your website. Suppose a term that you haven't used yet appears in the audience's high-intent research, and your competition is utilizing that keyword as well. At the end of the day, you may call yourself a successful keyword researcher since your website provides all of the information that visitors want. There are several advantages to using the keyword analysis, the most notable of which are as follows:
• Opportunities to restructure your content strategy:
After conducting competitive keyword analysis, you will be able to benefit from your competitive keywords. Changing your strategy and focusing on different themes that might attract more visitors to your website are also options you have.
• Support your PPC strategies:
Competitive keyword analysis can provide you with information about pay-per-click opportunities that will help you achieve a high return on investment (ROI) as well as new content marketing ideas.
Finding secondary keyword opportunities is important since it allows you to construct a more complex SEO plan.
• Create a more advanced SEO strategy.
It will provide an in-depth understanding of secondary keywords.
Competitive keyword analysis provides you with the chance to design a marketing plan that is tailored to your company's needs, and finally, you may launch an SEO campaign.
What is the best way to do a competitive keyword analysis?
Everyone who owns or manages a website is interested in learning how to analyze competitors' keywords. You will get an understanding of what competitive keyword analysis is and why it is crucial to your business. This is the time to devise a plan and take advantage of keywords that are being used by rivals to drive traffic to their websites.
Developing an efficient SEO strategy is critical for the success of any online business, but it is especially critical if you are a newcomer to this business. Competitive keyword research may be an excellent starting point for your plan and can help you get closer to the success of your online business. However, you must understand how to analyze the competitor's keywords. The following are some of the steps involved in competitive keyword research.
1. Conduct a website audit on your own.
First and foremost, you must determine which keywords are being used on your website and whether or not they are doing well in search results before undertaking competitive keyword research.
The information obtained from different technologies, such as AdWords, is utilized for this purpose in order to determine which pages of your website are getting visitors and which keywords are generating the most traffic. Performing internal analysis can also assist you in determining which keywords are not ranking well on your website, which will be beneficial. As an alternative, you might do a SWOT analysis to determine your strengths and weaknesses. You may also analyze whether or not the keywords you want to utilize will assist you in ranking higher on Google and achieving your objectives. You must gain a thorough understanding of your website and establish which SEO strategies you are employing, as well as any weaknesses in your SEO plan. For competitive keyword analysis, you may make use of a variety of tools, such as SEMrush. It will provide you with an overview of your rivals' keywords, which you may use to your advantage.
2. Figure out who your competitors are for Successful ways Of Competitive Analysis And Keyword Research.
Once you have a general notion of your position in terms of keywords and SEO approach, you can begin to refine your plan. You must determine which of your competitors is the most formidable. In addition to your competitors, many other firms will sell the same product that you do, or they may offer the same services that you do, but they are not all your competitors. Concentrate solely on those that are ranking highly on Google for certain keywords.
You may accomplish this goal by utilizing various technologies, such as BuzzSumo. You will also need to plug in the term that you are considering using, and you will be able to see which firms are currently ranking for that phrase. Make a list of your competitors who work in the same field as you but are doing a better job than you.
3. Examine your competitors' rankings.
You should now compile a list of your rivals who are active in the same markets as you. Now you must identify the keywords that you are not using but that your rivals are, and that they are ranking for as a result of these keywords. You may seek assistance from several tools, such as Ahref, which can provide you with specific information on the holes in your SEO strategy that you are currently lacking. Using this tool, you will be provided with a list of high-ranking keywords for your website.
This program will inform you of the flaws in your website, but your rivals will take advantage of these flaws to their advantage. You must, therefore, invest more time in keyword research if you want to acquire a competitive advantage and increase traffic to your website.
4. Begin working on raising your rank.
You'll need to create a list of ranking keywords at this point. Consider the words and phrases that will draw clients and interested audiences to your website's landing page. Here, you must consider your customer's point of view, such as how they are drawn to your website and which keywords will draw them in. There are more chances that you would not be able to outperform your competitors with every term that is relevant to your business, which means that you will need to be selective about which keywords you want to rank for in the search results. If you want to outperform your competitors with every term that is relevant to your business, you will need to be more creative.
Choose a core keyword and create other keywords that are connected to that term, and then incorporate all of these keywords into your text. If you want to rank for social media marketing, you should develop keywords that are related to your core keyword, such as: social media marketing tips, social media marketing guides, SMM strategies, social media marketing expertise, social media marketing guidelines, social media marketing expertise.
Through the use of a core keyword, you may create several keywords. Essentially, you must construct a framework based on the fundamental core term and then create a cluster of keywords that are related to the fundamental core keyword. You may apply these keywords to a variety of different forms of content, including blog posts, landing pages, FAQs, and a variety of other sites.
5. Make a long-term commitment to growth.
The most important thing in the importance of competitive keyword analysis In SEO is to remember that you will not be able to obtain a position overnight. You'll have to put in a lot of time and work to rank well for your keywords. By creating great content that includes a high-ranking keyword, you may convince your readers that you are the authority on the subject matter and that no one else is better than you. You can only rank on Google if you use keywords or phrases that are considered ranking keywords or phrases. However, you must conduct thorough research on your competition and persuade your audience that you are capable of doing a greater job than they are. You must conduct thorough research on your themes and incorporate videos and podcasts pertaining to those topics into your posts. Because videos and podcasts will help your audience learn more effectively.
This is a long-term commitment to filling in the holes in your strategy's execution. Other techniques might be used to improve the effectiveness of your SEO campaign. Take, for example, comments from your audience members, which will increase the attention of your audience. You can also use backlinks to your material on other websites to increase its visibility.
Competitive keyword analysis tools:
Keyword competition analysis tools include the following:
SEMrush (Search Engine Marketing).
SEMrush is a very effective tool for keyword research and analysis of competition. It is referred to as the "Swiss Army Knife" of SEO. It will provide information on the top keywords used by your rivals, rather than creating a list of keywords instead, it will provide information about 5–10 high-ranking keywords.
Characteristics that stand out
• Provide data on long-tail keywords used by competitors
• Provide data on recent keyword trends
• The user has complete access to the keyword research toolbox.
• Analysis of keyword difficulty as well as organic traffic statistics
Pricing
SEMrush provides you with a free trial of their account for seven days. However, free access also necessitates the submission of credit card details. If you decide to cancel your subscription, you won't be charged anything. Within a short period of time, you can terminate your membership. SEMrush has four pricing tiers, and you must renew your membership on an annual basis. The following services are available from SEMrush:
•Plus, this sort of account is budget-friendly because the monthly fee is $100, after which you must pay a one-time fee of $100.
• Guru – This account type is available to small businesses or agencies. Every day, new content will be added to the site, and users will receive daily updates. The cost of this account is $191.62 per month (including taxes).
Commercial: This sort of account is appropriate for major corporations and online retailers. It costs $375.95 a month to have this account set up and running.
• Enterprise: If you have a comprehensive content strategy that exceeds the capabilities of the solutions described above, SEMrush may create a custom plan for you.
KWFinder
This tool was created by the company Mangools. Mangools is also well-known for having the greatest keyword research tool while also providing a large number of categories. The user may locate keywords that have a low SEO difficulty level quite simply. It incorporates all of the functions that should be included in a keyword research tool. If you are a newbie, you can get assistance from the beginners' guide.
Features
It offer great features that set it apart from the competition
Offers an easy-to-use interface to its users.
Allows users to search for keywords in a variety of languages.
Provides statistics on the top-ranking keywords.
Filters will assist you in generating the most sought-after keywords.
Pricing
In addition to KWFinder, Mangools also provides four more SEO tools to its customers. This program also provides free keyword research, albeit the number of keywords available is restricted. You may pay for any membership with an annual payment, which will save you 40% on the cost of the subscription.
• Basic-This account is intended for small businesses or independent contractors. It will cost $30.
• Premium: Medium-sized businesses can purchase the premium version. It is purchase
Agency-This sort of account is available to e-commerce companies and large corporations.
Ahrefs Keyword Explorer
If you are a content developer, Ahrefs is one of the greatest keyword competitor analysis tools available. This tool is also used for keyword research, and it will provide a report on the exact keyword that has been entered.
Characteristics that stand out
• Include a keyword difficulty score as well.
• Provide more than a hundred keyword suggestions
• It is used in over 170 countries around the world.
• Gives a high-level overview of SERP pricing; allows the user to optimize CTR weight matrices.
In Ahrefs, there are four different sorts of accounts to choose from. If you are a mid-sized corporation, a freelancer, or an internet marketer, a premium account is the best option for you, and it starts at $82 per month for a month. It also offers a 7-day trial period at the low price of $7. However, only the basic and light accounts are eligible for this feature.
The Google Keyword Planner
The Google keyword planner is a fundamental tool for researching keywords on the internet. It is equipped with the most fundamental features. Despite the fact that it has limited capability, it is widely used since it provides accurate keyword analysis of rivals' terms. This is due to the fact that this tool is provided by Google and that it uses research data straight from Google, as well as the fact that it is related to AdSense.
Characteristics that stand out
• Accurate search volume directly from Google's search engine.
• Best choice for business and ecommerce websites. Pricing
This tool is completely free of charge to use.
GrowthBar
GrowthBar will provide rapid data concerning the keywords of rivals as well as the problems connected with the keywords that are rated highly. The research results include all of the information on the term. This program also has a one-of-a-kind feature known as "content outline generation." The user will receive an outline of the material, including word count, photos, links, keywords, and much more, with only one click.
Also included are details on how backlinks are driving traffic to the rivals' websites, organic keywords, and information on Facebook advertisements. There is also much more information available on the competitors' websites.
Characteristics that stand out
Use artificial intelligence to create a content outline
Track the most popular ranking keywords, provide information about the ranking difficulty of the term, and make long-tail keyword suggestions.
The number of words printed on a page
Pricing
This tool offers a free trial period of five days. After the free trial period has expired, you will be required to pay for your membership. With a high-tier plan, you get the ability to search for an infinite number of terms.
Scale: $79/month; Professional: $29/month
Long Tail Pro
Long-tail keywords are now in vogue in SEO and are quickly becoming the industry norm. Using this tool, you can not only generate long-tail keywords for niche websites, but you can also search for content for micro-niche websites as well.
Features:
Features that distinguish them include: providing a keyword matrix
Identifying long-tail keywords with no trouble
Making recommendations on how to increase traffic to your website; and generating more than 2500 SERP results in a single day.
Pricing
The free trial term for this account is seven days, but the user has the option to cancel their membership at any time within that period. If you want to pay yearly, the subscription will cost you $25 as a starting point. There are three different sorts of plans available from Long Tail Keywords. Startup fees are $25 per month, Pro fees are $45 per month, and Agency fees are $98 per month.
The magnificent
Using this application, you can keep track of your rivals' websites in one place. In the case of beginners or small businesses who do not wish to engage in search engine optimization, this tool is ideal.
Characteristics that stand out
Provide all keyword analysis functionality in a single software package.
Look for a less difficult-to-find term.
The graph of authority vs. trustworthiness should also include information on the level of competition for the term in question.
Pricing
Users must register in order to use this tool, which provides three free searches as well as a trial period for using its services. There are two different plans available for this account: Pro and API. If the user chooses an annual payment plan, he or she will be required to pay $83 every month.
Tool for Keyword Research
Moreover, this keyword research tool provides information on keyword data mining techniques. Among the most prominent keyword competition analysis tools available on the market, this tool also analyses keywords on multiple search engines such as YouTube, Amazon, Bing, and Google to determine their usage patterns.
Characteristics that stand out
Keyword research with Google autocomplete; keyword analysis; exporting findings to CSV
Beginners can benefit from simple user interfaces.
Pricing
This tool works in the same way as the Google Keyword Planner. It provides a free keyword search engine with more than 750 terms, which is one of the reasons why it is popular and simple to use. Its most basic plan starts at $69 a month if you pay in advance in full each month.
9. Serpstat
If you are in charge of a huge company and want a comprehensive SEO solution, Serpstat is the ideal choice. Various capabilities are available, including backlink analysis, SERP analysis, competition keyword analysis, website auditing, and track ranker keyword tracking, among others. However, it is regarded as a one-stop solution for all of your SEO concerns.
Characteristics that stand out
Include a competition graph tool to help your customers better understand their competitors.
It provides information on popular keywords as well as keyword challenges.
Capable of adapting to your financial situation and providing any solutions
Pricing
Serstat is also accessible as a free trial for the purpose of searching for keywords after creating an account. However, if you want regular services, you must subscribe to one of the company's plans. The price of a personal plan begins at $55 per month.
Moz Keyword Explorer
This program is quite simple to use, and it provides recommendations for the term in question. It has all of the functions that should be included in the finest tool for keyword research in the first place. It also provides the user with two pieces of information.
This score will provide information on how many clicks are required to bring your web page to the first page of search results and how to analyze competitor keywords
Priority score: it provides the scores that are required for a typical tool to function properly. It provides data on click-through rate (CTR) and search volume. It also provides information on the level of difficulty connected with a certain term.
Characteristics that stand out
• Offer suggestions based on your keyword search
• Provide statistics in the form of priority score and organic CTR
• Offer a one-month free trial
Pricing
When a user registers for a Moz account, he or she may take advantage of a one-month trial period that includes 10 free searches throughout that month. You will need to subscribe to the whole SEO package, which includes the Keyword Explorer as a component, in order to get comprehensive access to this indispensable minor item. The Moz "Medium" plan, which starts at $179 a month with the option of a free 30-day trial, gives you access to the platform's keyword competition analysis tools, which are included with the subscription.
Spyfu
Spyfu is one of the greatest tools for rival keyword analysis and for determining which methods your opponent is using. This tool will provide you with useful information about your opponent as well as how much effort you will need to put in to rank your website.
Characteristics that stand out
The following features are available:
• Search for keywords and compare them to top-ranked websites.
• Information about keyword difficulty and ranking difficulty.
• Providing extra options for assessing rivals' keywords
Pricing
In this respect, Spyflu differs from the other tools on this list in that it will provide information on monthly searches in addition to other features. In the event that you pick an annual payment plan, the cost of a spyflu account is $33 per month.
In your opinion, what is the most efficient keyword research tool? (This was determined by an expert.)
It goes without saying that if you've done any research on rival keyword tools, you're already aware that SEMRush is the greatest and most widely utilized analytic competitor keyword tool available on the market right now. If you haven't already, you should conduct some research on keyword competition analysis tools. This toolkit is equipped with all of the capabilities you'll need to finish your assignment successfully. If you're searching for a free competitive keyword analysis tool, Google Keyword Planner is the best effective option accessible on the internet right now, according to our research.
Ahrefs is the greatest tool for developing an efficient search engine optimization strategy for websites that sell things or have blogs, and it is the most used tool for this purpose.
If you make use of the information provided by these tools, you will be able to acquire thorough information about your website's ranking keywords and SEO challenges, as well as information about your website's click-through rate (CTR). As a result of conducting keyword research, you will have a strategy for enhancing the ranking of your website in search results.
Opponents across a variety of social media sites, doing research and analyzing them.
Is it necessary to do competitor analysis via social media platforms? Do you have any suggestions?
In addition to having their own set of users, social media platforms also have their own tools for analyzing the keyword phrases of competitors. Users want to see new information in the form of posts and photographs in order to keep up to date on each platform, and each platform is different. Instagram, for example, is a social media network where users may share content in the form of photographs and videos. LinkedIn is a social media network where users may learn about the ideas of experts by reading articles produced by those in the field.
As a result, the content that you post on social networking sites has an influence on the overall performance of your account. The presence of a brand on social media platforms is not obligatory, but it is necessary in order to attract people to the company's website. In order for their audience to engage with their content and for their website traffic to rise, they must first connect with their audience. To engage your targeted market as a result, it is vital that you include social media outlets while developing your marketing strategy. Additionally, conducting competition analysis on social media platforms is essential. A description of each social media network, as well as detailed instructions on how to analyze competitor keywords, may be found below.
Instagram
According to the results of research, the vast majority of individuals spend 30 minutes every day on Instagram. More than 70% of businesses use Instagram to attract and communicate with their customers, which is an impressive figure. By employing competition analysis techniques, it is possible to publicize your account while also taking advantage of the flaws and shortcomings of your rivals.
The results of competition research on Instagram provide valuable insights into the behavior of Instagram audiences, how rivals increase their followings, and how audiences behave if your content strategy changes. If you are knowledgeable about competition analysis, you may be able to save time by putting together a more effective plan rather than winging it.
Facebook
For good reason, Facebook is frequently referred to as one of the most popular promotional platforms accessible today. According to reports, the vast majority of people spend more than an hour on Facebook each day, with the number of people doing so rising with each passing year. As a result, Facebook is being used not just for exchanging information but also as a marketing tool for various businesses.
As a result, your objective is to create the most effective content and promotional strategy to attract customers. Utilizing competition analysis tools, you may be able to gain an advantage over your opponent while also developing a more successful strategy.
LinkedIn
LinkedIn is a social networking platform that is frequently used for the purpose of recruiting new employees online. Many businesses utilize the information on LinkedIn to sell their products and services to potential customers. Always keep an eye on your competitors and be informed of the market trends that are being implemented in your business. Companies use LinkedIn to communicate specific information about their products and services with their customers. Because of this, you will have access to more information on your rivals than any other organization.
Twitter may also be used to engage with your target audience and build a relationship with them. As a result, by following your competitors on Twitter, you can keep up with their latest developments. A tremendous resource for doing competitive research has developed from social media, thanks to the fact that the great majority of firms are taking advantage of the benefits afforded by the social media juggernaut.
What should I look for to buy a paid competitor analysis tool?
Listed below are six characteristics you should look for in a paid search competitor analysis tool.
Paid tools allow users to observe the functioning of keyword competitive tools in action. Some of the tools are charged, while others are completely free. Paid keyword competitive analysis solutions offer greater capabilities and more accurate findings than free keyword competitive analysis tools do. However, purchasing effective and dependable paid competition analysis tools is quite tough. Listed below are six factors to think about while selecting a premium tool.
First and foremost, you'll want good keywords in your keyword analysis tool, which implies that you'll require keyword insights. Therefore, the user should be aware of the distinction between valuable and non-value terms and should choose the most valuable word used by your competitor to rank for in order to maximize their chances of ranking well. It is important for the user to be completely aware of unsuccessful keywords and to avoid utilizing them in your SEO strategy if at all feasible. Simply concentrate on keywords that are specific to your website and that will draw traffic to it to begin with. with the purpose of seizing an opportunity that your competitors have passed up on."
2. The keyword competitive tool may aid you in keeping a track of the modifications that have occurred in your advertisement copy. The technology should allow users to have access to historical information that may be used in the present day. Despite the fact that writing effective ad language is a difficult talent to acquire, the reality is that the vast majority of your competitors use it to attract attention and create clicks. This tool provides you with valuable information about the ad copy, which you can use to build excellent examples for your SEO campaign when you have completed your search.
3. Your keyword competitor tool should be capable of analyzing a vast quantity of data and delivering actionable results. This is one of the reasons why the KEI and AEI are so widely used. Because these technologies will turn raw data into information that can be used to make decisions. When it comes to valuable keywords and valuable adverts, the tool should be able to provide information on both.
Fourth, the keyword competitor tool should provide information on the structure of the ad accounts of the most prominent competitors.
5. Ad Group Optimization: As a result, you will not be necessary to strategize from the ground up, but will instead just copy the strategy of your rival.
6. Insights into landing pages: While most keyword competitive tools express information about their competitors' landing sites, the finest keyword competitive tools should provide information about any PPC campaign that is being watched by the tool. These pages are where the vast majority of visitors land after being sent there. This will help you to keep an eye on the website traffic of your competitors as well as the methods they use to draw people to their websites. Keyword competition tools should not only give hard numbers, but they should also provide information about the approaches of rivals and information about the copywriting and design of the websites in question.
7. A clear and unambiguous user interface: User-friendliness is a fundamental need for any effective paid search keyword competition analysis tools. After all, PPC marketers must be able to carry out their obligations quickly and effectively. It is critical, however, in a world where information overload is a constant issue, for software developers to present information in a clear manner, to prevent clutter, and to make navigation as simple as possible.
The Benefits of SEO Competitor Analysis
It is quite advantageous to use SEO competition analysis tools since they give thorough information about your competitors. Tools have their own Importance Of competitive keyword analysis In SEO. In order to undertake an SEO competitive study, there are three key benefits to do so, which are as follows:
Look for phrases that are both effective and concise.
Using the SEO competitor analysis tool, it will provide a list of keywords that are presently performing well and will drive traffic to your website in the future. In addition, the tool will provide statistics on the amount of clicks received by a certain word, as well as the total search volume for that particular phrase. Furthermore, these technologies provide us with information about the amount of difficulty associated with a certain phrase. So you can develop your own list of keywords that are simple to utilize and will drive more traffic to your website as a consequence of this research.
Look for terms that you may have overlooked in your previous searches.
While the competitor analysis tool will produce a list of useful phrases that you may have used in the past, it is possible that some of these keywords may be overlooked by the program's algorithm. The most major advantage of employing these tools, on the other hand, is that they may reveal information on the terms used by your competitors. You may choose to compare your term to the keywords of your competitors in order to obtain a second list of keywords that were not included in the first.
It gives you a competitive advantage over your competitors.
When it comes to business, it is all about learning from your mistakes and taking advantage of the mistakes of your competitors to succeed. Maintaining a close watch on competitors has historically been performed in a variety of ways, but SEO competitive analysis is a strong tool that may help your firm achieve more success. They will be able to pinpoint the keywords that will drive them ahead to success if they make use of these resources. Because of this, you may be able to develop a better strategy than your competitors while simultaneously outperforming them in terms of overall ranking.
Frequently Asked Questions
What is the relevance of competition analysis in search engine optimization (SEO)?
The most significant advantage of performing competition research for SEO is that it helps you identify the most formidable competitors in your field. These tools will also provide you with information on the position of your brand in the marketplace. This means you will be able to keep an eye on your rivals and profit from their mistakes as well as the keywords that they rank for the most frequently.
Is it necessary to incorporate any specific information into a competitive analysis?
A few of the most notable characteristics of best keyword competition analysis tools are the features provided by your competitors, as well as their strengths and weaknesses. Other capabilities include customer reviews and market share statistics. Unlike paid tools, which provide more in-depth information about a keyword, free tools only provide the most basic information about a phrase.
What is the importance of examining the backgrounds of your rivals?
It is vital to conduct background research on your competitors as well as to be familiar with the products and services they offer. If you want to be able to sell your products, give services, and create content successfully, you must first learn how to code. You may also use this tool to create an SEO strategy so that you can concentrate on the weaknesses of your competitors and use that knowledge to increase the success of your firm.
What exactly is the relevance of competition in the corporate environment?
Competition is advantageous to your company since it helps you to identify your firm's distinctive and distinguishing traits that are appealing to potential customers and so increase sales. Identifying and capitalizing on these traits can assist you in increasing the success of your company's sales and attracting new clients to your organization.
What are the disadvantages to conducting a market research study on competitors?
You underestimate the amount of knowledge you have about your competitors and give up before you've even begun, which is the first of them. Alternatively, you might underestimate the uniqueness of your offerings. Despite the fact that you and your competitors both operate in the same market, you have a tendency to fall short of meeting the needs of the markets in which you are competing.
Finally, some decisive ideas
It is possible to do a successful competitive study in a variety of ways, and effective keywords can be developed through free keyword research tools. However, free tools need a significant amount of effort, and time is more valued in today's society. It takes a significant amount of time to search for keywords using various free keyword research tools and then combine the results into another spreadsheet. Because paid keyword competition analysis tools are accessible for this purpose, you may concentrate your time on SEO activities like content creation and backlink provision rather than on other tasks.
In addition, commercial tools such as Ahrefs, which deal with enormous amounts of data, make it simple to assign low-competition keywords. Free SEO tools can also be utilized at the start of your SEO journey. But when you are in true competition, you would require a paid tool to keep track of your competitors.